One-Pan Kielbasa Veggie Bake is the ultimate weeknight meal. It's quick, easy, flavor-packed dinner ready in 30!
When you're looking for no-fuss dinner ideas, it doesn't get easier than sheet pan meals. Everything gets tossed together on a pan and roasts while you unwind from the day. Not only are they easy to make, they can be prepped a day (or two) ahead and baked right when you need them! Today's One-Pan Kielbasa Veggie Bake is one of our oldest and dearest combos that never lets us down. It combines juicy kielbasa, crispy potatoes, tender green beans, and a creamy Rosemary-Dijon dressing that you'll want to smother on everything. We're confident this recipe will land on your regular rotation.
WHAT YOU'LL NEED
Protein
Just about any favorite protein will work in this recipe. We're big fans of turkey kielbasa and find it pairs perfectly with our sauce, but any other mild tasting sausage, chicken, or even tofu cubes will do.
Potatoes
When we first began making this recipe (some 8+ years ago!) it actually started out as a chilled potato salad. My, how far we've come! Yukon Golds always have our heart as they are the perfect all-purpose potato. Great for roasting, mashing, frying - you name it! They hold up especially well in this dish and lend a creamy texture and somewhat buttery flavor to the dish. That said, russets, reds, fingerlings, and sweet potatoes can be substituted in their place.
Veggies
Hearty veggies like green beans, peppers, broccoli, cauliflower, and onions work best for this sheet pan meal. Since everything gets roasted together, it's important that the veggies can hang with the sausages and potatoes.
Our Rosemary-Dijon Dressing
While a sauce may seem like an extra step, we promise you, you definitely DON'T want to miss out. This simple sauce comes together with just a handful of ingredients and completely amplifies this dish. You may find yourself using it on much more than just this sheet pan meal.
HOW TO MAKE THIS RECIPE
Step 1
To start, whisk together your dressing. For best results, you can make this dressing up to 3 days in advance.
Step 2
Next, it's time to get chopping. This is by far the most "tedious" part of the the whole recipe. Once it's done, the rest is smooth sailing. It's important to dice the sausage and potatoes into even 1" pieces and green beans in half to ensure even baking time.
Step 3
Once everything is prepared, toss the sausage, potatoes, and green beans onto a sheet pan and drizzle lightly with avocado oil and sprinkle with seasonings.

Roast until sausage is lightly golden and potatoes and green beans are tender.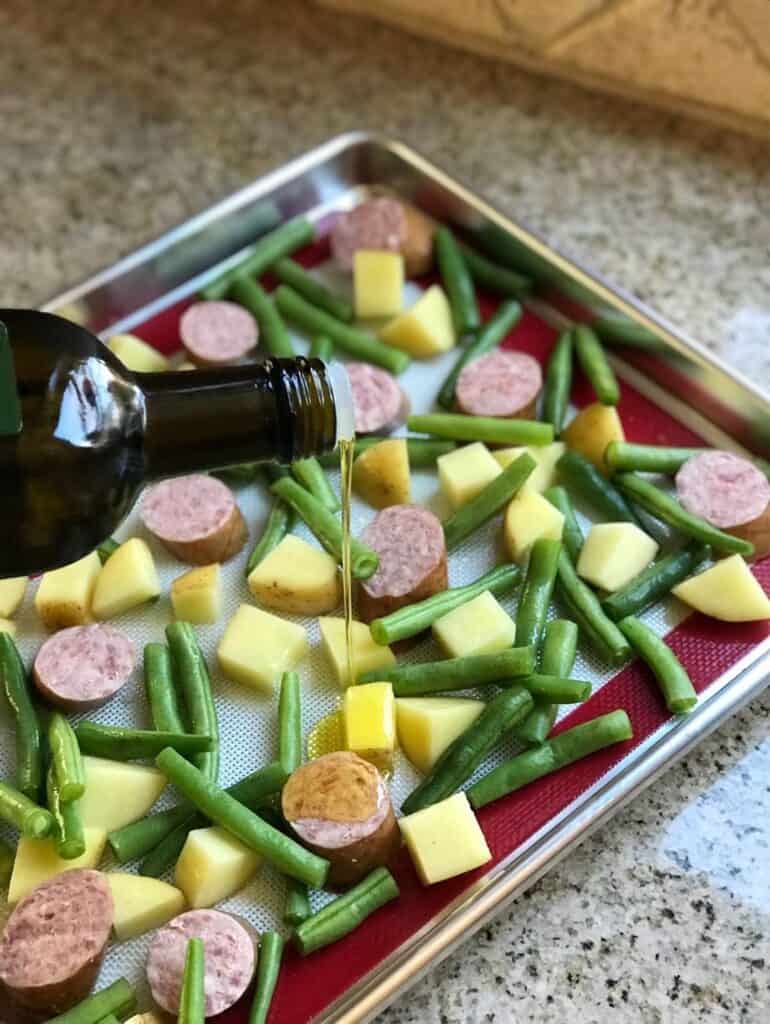 Step 4
Lastly, add your sausage bake to a bowl and drizzle generously with dressing generously.
Print Recipe
One-Pan Kielbasa Veggie Bake
Roasted Sausage and Veggies is the ultimate easy weeknight meal.
Ingredients
1

12 oz.

package kielbasa

2-3

medium Yukon Gold potatoes

can sub with russet or red potatoes

1

lb.

fresh or frozen green beans

1

tbsp

olive oil

¼

tsp

each, garlic and onion powders

black pepper, to taste
Rosemary-Dijon Dressing
2

tablespoon

Dijon mustard

2

tbsp

red wine vinegar

1

tablespoon

olive oil

1 ½

tsp

dried rosemary

1

clove

garlic, minced

can sub with ½ teaspoon dried garlic

salt and pepper

to taste
Instructions
Whisk together dressing ingredients; set aside.

Dice potatoes into 1" cubes and place into a bowl of cold water (soaking removes some starch and helps potatoes crisp up when baked). While potatoes soak, slice sausages into 1" cubes and green beans in half, with ends trimmed.

Drain water from potatoes and pat dry with paper towels. Toss potatoes, green beans, and kielbasa with a light coating of olive oil and season with garlic and onion powders.

Place mixture onto a sheet pan and roast at 350 degrees for 30-35 minutes, tossing once, until potatoes are tender and veggies and sausage are lightly caramelized.
Nutrition