The Best Baked Homemade Turkey Jerky is easy, delicious and costs just a fraction to make versus store bought. Plus, it comes without the laundry list of ingredients.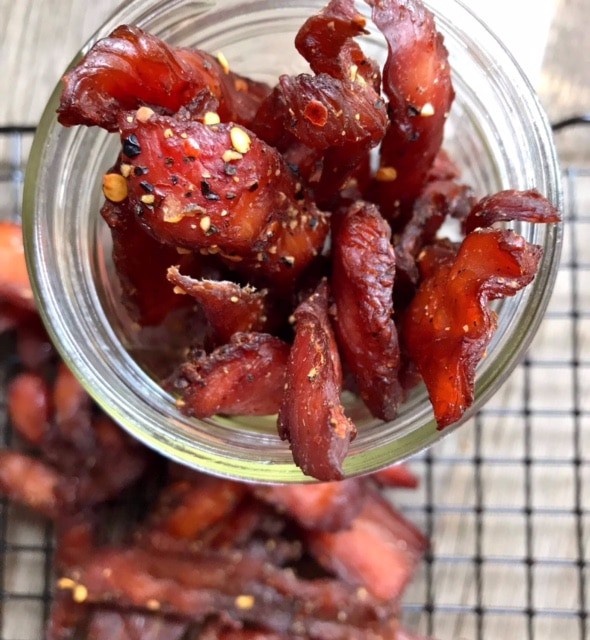 For us, jerky is the ultimate snack food. It's savory, satisfying, and perhaps the most portable, high protein snack around. The downside? Store-bought jerky is CRAZY expensive and often loaded with not so wonderful ingredients. We decided something needed to be done about this so we set out to create our own delicious solution: The Best Baked Homemade Turkey Jerky. Tender, chewy, flavorful, and so good, you may never buy the bagged stuff again. Even better? This homemade version is SO incredibly easy to make and costs just a fraction of the price for about 4 times the value. That, my friends, is what we call a win-win.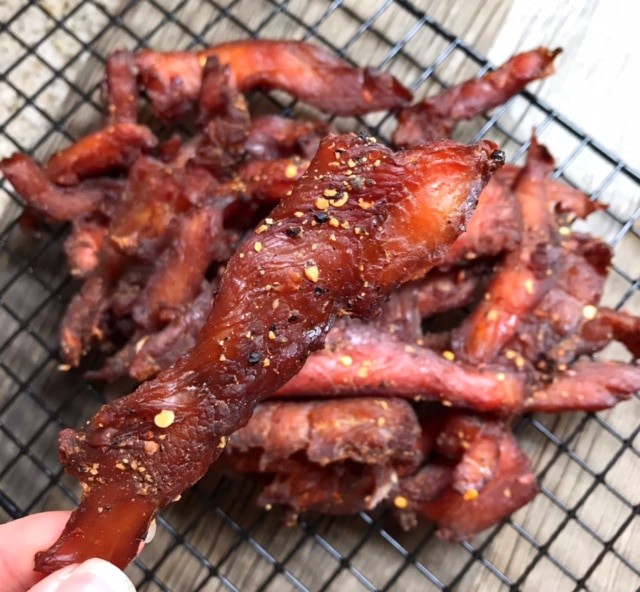 Recipe Notes
Patience Makes Perfect. The only hard part of this recipe (it's really hard to find anything we don't love) is that is does require some patience. We recommend a minimum marinating time of 12 hours or more to ensure your jerky comes out super flavorful.

Pick Your Protein. We absolutely love the flavor and texture from turkey breast tenderloin, but it's not the only option out there! Top Round, Bottom Round, Flank Steak, and even Sirloin Steak are all great options for a traditional beef jerky.

Your Marinade Mix. Over the years, we've developed several versions of this marinade, and they've all turned out amazing. We've found that always including a primary base of soy sauce or similar (No-Soy Sauce Sauce, Tamari, Bragg's Liquid Aminos, or Coconut Aminos) is important for the best flavor absorption and retention. Have fun mixing and matching different herbs and spices to make it all your own! Garlic powder, smoked paprika, oregano, honey, sriracha, and jalapeño powder are a few other add-ins we have loved!

Storage. jerky makes the perfect, portable, anytime snack! For optimum freshness, we recommend storing in the refrigerator for 3-5 days and pulling out just before enjoying or heading out on your outdoor adventures.
Print Recipe
Best Baked Homemade Turkey Jerky
Tender, flavorful homemade jerky with better ingredients and a fraction of the cost of store bought!
Ingredients
1

lb

turkey breast tenderloin

½

cup

reduced sodium soy sauce

can sub with coconut or Bragg's liquid aminos

1 ½

tablespoon

Worcestershire sauce

1

tbsp

brown sugar

½

teaspoon

black pepper

¼

teaspoon

garlic powder

1

teaspoon

chili flakes, or more, to taste

can sub with sriracha or similar chili sauce
Instructions
Place turkey breast in the freezer 1-2 hours prior to slicing. This will help firm it up and make it easier to slice. 

In a small bowl, whisk together marinade ingredients. Taste and adjust per preference. 

Once chilled, remove turkey and slice into ⅛″ strips. Add turkey to marinade and toss well. Place in the fridge overnight, or for at least 12 hours, and mix occassionally to ensure an even coating of marinade. 

Preheat oven to 175 degrees. Line two sheet pans with aluminum foil and place an oven-safe cooling rack on top of each pan. 

Remove turkey pieces from marinade, allowing excess marinade to drip off, and place pieces onto cooling racks, careful to avoid overlap. 

Bake for at least 3 hours (ensuring turkey is cooked through), flipping once, or until turkey has reached desired consistency. For a chewier, more classic jerky texture, you may choose to go closer to 4-4 ½ hours. Store in an airtight container, fridge recommended. 
Nutrition