Healthy Homemade Mounds Bars are an upgraded twist on a classic candy favorite! This simple recipe tastes even better than the original.
Coconut has always been one of my very favorite flavors. From sweet to savory dishes, coconut lends that fun, tropical, unmistakable flavor to a variety of cuisines. When we're talking candy, Mounds bars are at the top of my list! It's near impossible to beat that sweet, chewy, coconutty filling all wrapped up in creamy chocolate. So simple yet SO incredibly delicious. These Healthy Homemade Mounds Bars are reminiscent of that childhood classic (arguably, way better) and made with ingredients you can feel good about indulging in. We think you'll agree, this homemade version takes the cake.
RECIPE TIPS
Coconut Types. We've found that unsweetened coconut flakes works best for this recipe. Pre-sweetened coconut tends to be too overpowering, especially once chocolate is added on. For a tasty twist, you can replace ⅓ of the coconut with toasted coconut flakes. Adds a little crunch and that toasty flavor.
Chocolate. Classic Mounds bars use milk chocolate but we opted for dark. Truthfully, either works well so we say pick your favorite! For a fun, kid-friendly twist, you can use white chocolate and food coloring to really shake things up! The same goes for a chocolate drizzle versus the full dunk. We've made them countless times both ways and still can't pick a favorite.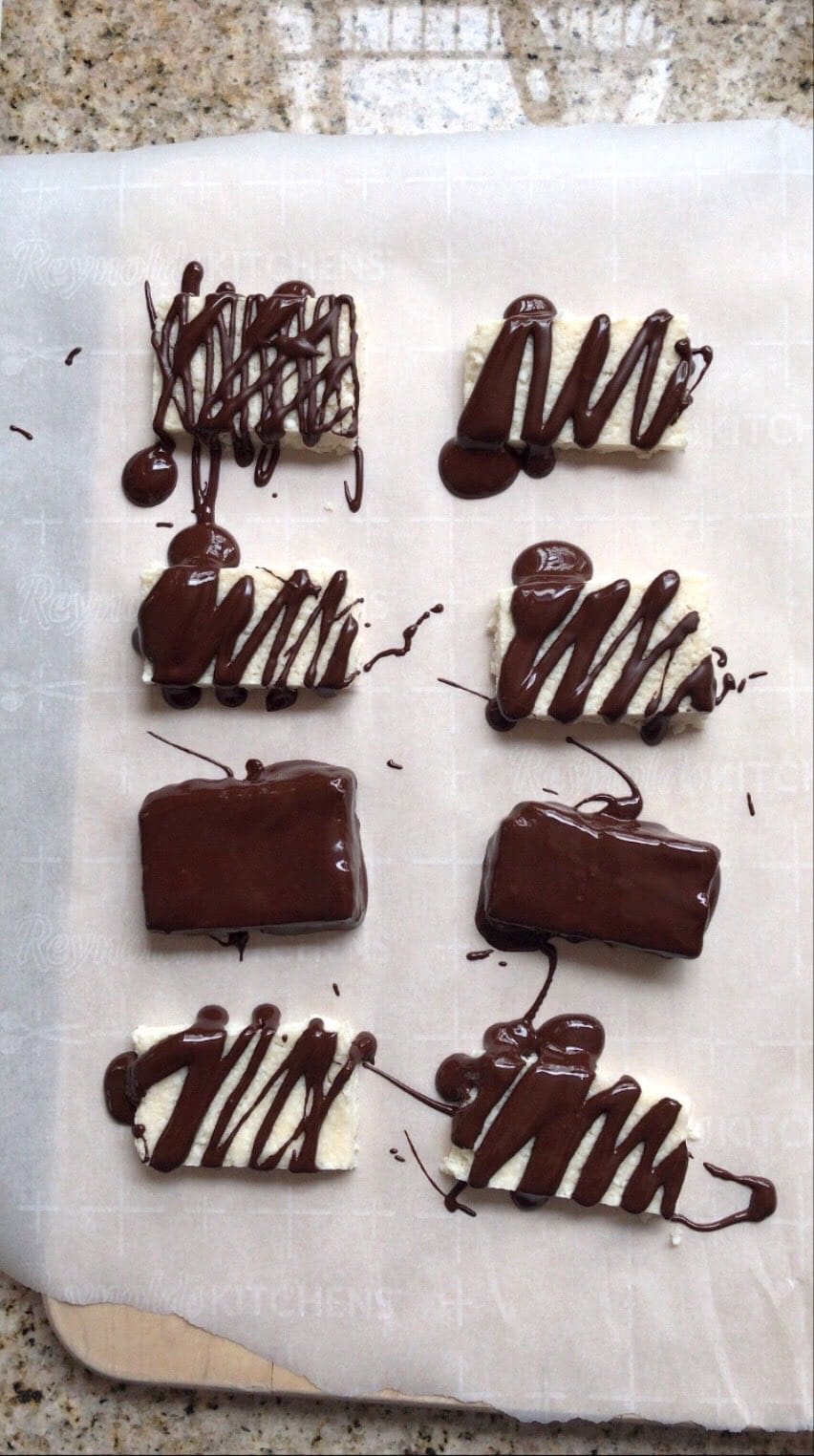 Coconut Oil. While this may seem like a ridiculous thing to say on a recipe featuring coconut, there are two primary types of coconut oil to choose between. Unrefined (virgin) coconut oil has that classic, bright, tropical coconut scent and aroma. It also has a light yellow or sometimes ivory shade. On the other hand, refined coconut oil is practically void of any distinguishable scent or flavor and tends to be clear or brighter white if solid. Either oil works perfectly well for this recipe, so it really comes down to personal preference. If you can't get enough coconut flavor, the unrefined oil is for you! If you desire "just enough" coconut, refined is the way to go.
Time to Chill. When you've mixed your coconut filling together, we recommend chilling in the fridge, not the freezer. Over hardened filling can crack more easily than lightly chilled. If you are in a time crunch, we recommend popping your mixture into the freezer and allowing it a few minutes at room temperature before slicing, to decrease the chance of cracking.
FREQUENTLY ASKED QUESTIONS
Do these bars freeze?
Yes! These bars freeze extremely well (for up to 2-3 months) without any loss of taste or texture. We recommend removing them from the freezer at least 1 hour prior to enjoying.

Can I use another sweetener in place of maple syrup?
Other liquid sweeteners can be substituted in place of maple syrup with some differences in flavor. Honey and date syrup both lend very distinct flavors that take away from that classic "mounds" bar flavor. Our second pick in place of maple would be agave syrup, which has a very mild, almost nonexistent flavor that won't affect the overall end product.

Help! My filling isn't "sticking"!
A semi-sticky filling is essential for creating your bars. The filling should be tacky enough that it sticks together when firmly pressed. Add additional oil and syrup, in ½ teaspoon increments, as needed, until mixture holds. When adding filling to your pan, ensure mixture is pressed down very firmly so it can "set" into shape. If needed, use a can or the back of a spoon to roll or press the bars into form.

My chocolate shell is too thick!
For a thinner dipping chocolate, add coconut oil, in ½ teaspoon increments, until you reach desired consistency. Coconut oil will thin your chocolate and help the "shell" set more quickly.
Print Recipe
Healthy Homemade Mounds Bars
Healthy Homemade Mounds Bars are an upgraded twist on a classic candy favorite! This simple recipe tastes even better than the original.
Ingredients
3

cups

unsweetened coconut flakes

3

tablespoon

unrefined coconut oil

3

tablespoon

maple syrup

1 ½

teaspoon

vanilla extract

⅛

teaspoon

salt

1

cup

chocolate chips

for melting
Instructions
To a food processor, add coconut flakes, coconut oil, maple syrup, vanilla, and salt. Process on low for 30-45 seconds, or until mixture is well combined and beginning to become slightly tacky. You want your mixture to be sticky enough to press and hold together.

Pour mixture into a lightly oiled or parchment-lined bread pan or baking dish*, pressing down firmly until evenly distributed. Place in the refrigerator for 20-30 minutes, or until "set".

Using a firm spatula, gently remove coconut mixture from pan and slice into "bars" or mini bites.

Melt chocolate in a microwave safe dish, in 10-15 second intervals, until melted. Drizzle or dunk bars with chocolate and place back into the fridge until chocolate sets.
Notes
*we often double our batch and find this perfectly fills a 9x9 baking pan, yielding approximately 20 good sized bars.
Halving/Doubling Recipe: You can easily halve or double your recipe with great success using the 1:1:1 ratio of 1 cup of coconut flakes to 1 tablespoon oil to 1 tablespoon maple syrup. Vanilla extract and salt cannot be doubled, and should be adjusted per preference. 
Storage: these bars are best kept in the fridge. For a softer, chewier eating experience, remove from the fridge 5-10 minutes prior to enjoying. 
Nutrition