Tender, moist, and packed with flavor, the Best Turkey Meatloaf Recipe makes a fan of even the pickiest of eaters.
There's really no other way to say it, you either grew up a meatloaf fan, or you didn't. For many who fall into the "I'll pass, thanks" category, the meatloaf they were used to was dry, bland, and generally unappealing. To them we say, "you've GOT to give this a try!" We have heard from so many people that this was the dish to covert them from haters into total fans. So much so that this recipe is on their regular meal rotation! We can't wait for you to try it!
Why You'll Love This Meatloaf
Not your mama's meatloaf.
No offense to all the mamas and meemaws out there but this loaf is a step above the rest. It is incredibly tender and moist and is loaded with savory, herby flavor. It makes amazing leftovers and meal prep and stays juicy when reheated!
It's an upgraded version--
Compared to traditional recipes, this recipe is lightened up and leaned out - without sacrificing flavor or satisfaction.
Customizable for Gluten/Dairy Allergies
We've made this meatloaf well over 100 times and have customized it nearly as often! It can be made dairy and/or gluten free for those that need it and will always turn out great!
Primary Ingredients to Make This Loaf
Ground Turkey
We've made turkey meatloaf with all kinds of ground and find 93% to offer the best ratio of lean to fat for a nice, juicy loaf. 99% lean is doable, but benefits from extra cheese and raw onion, which provide additional moisture.
Almond Meal
Almond meal is a great binder for meatloaves and meatballs. It's a gluten free alternative to breadcrumbs and offers healthy fat, fiber, and a rich flavor to any recipe. You can use traditional breadcrumbs or another gluten free alternative if desired.
Dried Herbs and Spices
Herbs are ESSENTIAL for a flavorful loaf. We love the convenience of herbs right from the pantry but feel free to swap with their fresh counterparts, if desired. We've used single herbs and blends based on preference - there's no right or wrong way to do it! We rely on dried garlic and onion thanks to sensitive tummies, but you can absolutely use fresh if you can tolerate them!
Ketchup
Ketchup serves two roles in our meatloaf: flavor and moisture.
Eggs
Eggs bind our loaf and provide structure to help it set.
Cheese
We love the salty, nutty, and slightly sharp flavor Italian cheese lends to this loaf. That said, we have made this loaf MANY times without cheese and still find it delicious. Feel free to include or omit - depending on dietary needs or preferences.
How To Make This Recipe
Step 1
Add all ingredients to a large mixing bowl.
Mix ingredients together until well combined.
Step 2
Transfer meatloaf mixture to a loaf pan and add glaze. Cover with aluminum foil and bake!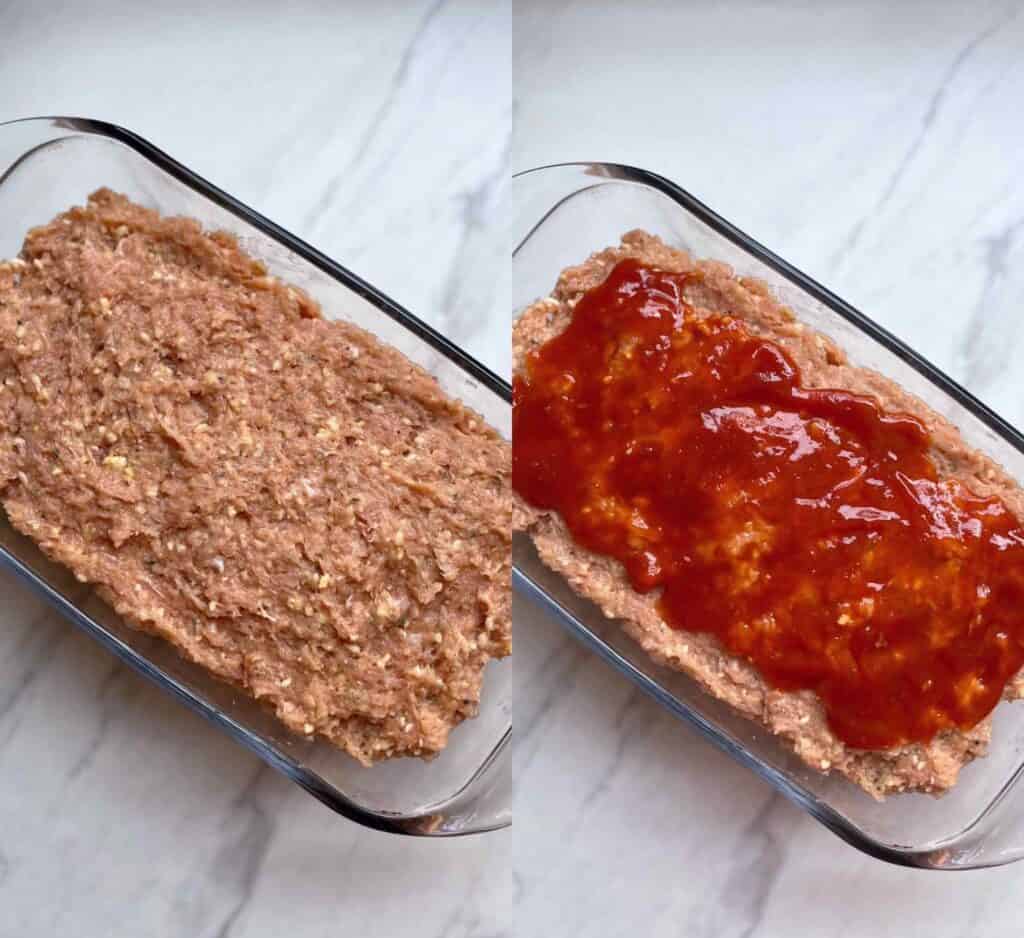 Step 3
Allow meatloaf to rest for 5-10 minutes prior to slicing and enjoying
Print Recipe
Best Turkey Meatloaf Recipe
Tender, moist, and packed with flavor, the Best Turkey Meatloaf Recipe makes a fan of even the pickiest of eaters.
Ingredients
2

lbs.

93% lean ground turkey*

⅓

cup

ketchup

½

cup

almond meal

can sub with panko breadcrumbs

½

cup

shredded asiago or Italian cheese blend

optional

½

teaspoon

salt

½

teaspoon

garlic powder

½

teaspoon

onion powder

¾

teaspoon

dried Italian seasoning

¼

teaspoon

ground pepper

2

eggs

¼

cup

ketchup

for glaze
Instructions
In a large mixing bowl, combine all ingredients, except ketchup glaze. Mix together ingredients until well combined. Place loaf mixture into a loaf pan and press down gently until evenly distributed.

Using the back of a spoon, spread remaining ketchup evenly over the top of the loaf.

Cover pan with aluminum foil (reserve for next step) and bake for 45 minutes.

Remove foil and bake for another 10-15 minutes, until loaf temps at 155°. Cover loaf again with foil for another 5-10 minutes. Carry-over cooking will bring the loaf to a final temp of 165°.
Notes
*If using 99% lean gound turkey, consider swapping dried onion powder out for ½ yellow onion diced into small pieces to provide extra moisture.
Nutrition