Peaches and Cream Baked Oatmeal combines tender, spiced oats with sweet, juicy peaches for one incredibly satisfying breakfast. These oats are so good you might confuse them with dessert!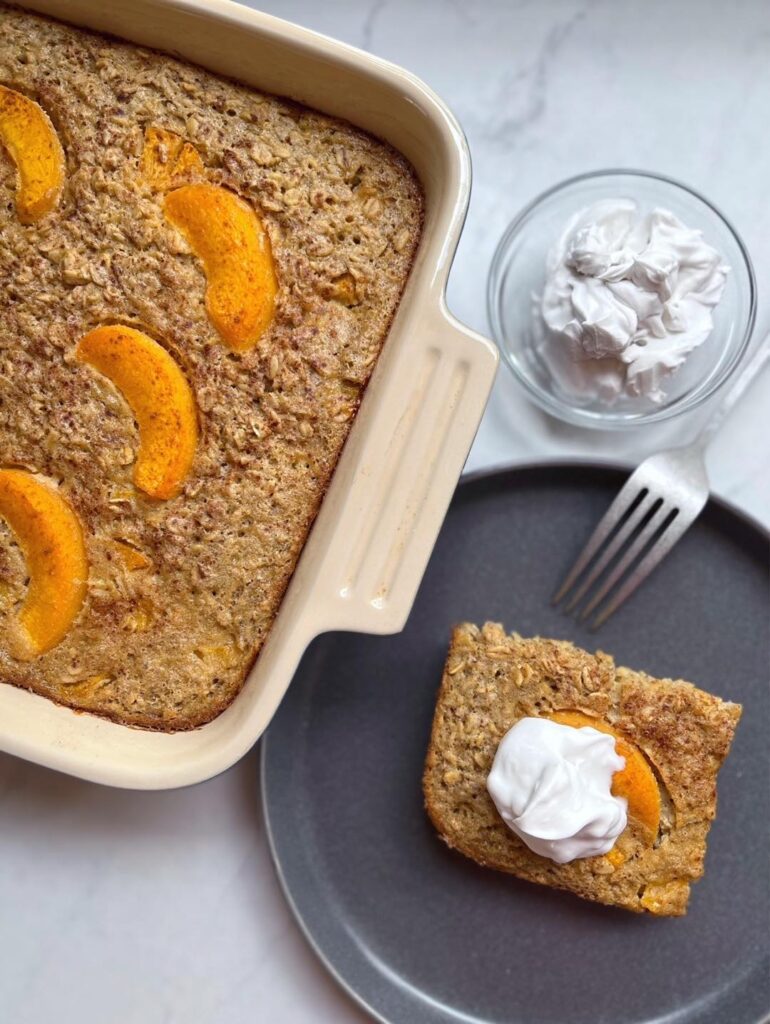 We don't know about you, but once Mother Nature hints at warmer weather our minds go straight to summertime produce. Berries, watermelon, and of course, PEACHES! Sweet, juicy, and the perfect pairing for both sweet and savory dishes, peaches cannot be beat! While we're (im)patiently waiting for fresh peaches to hit the markets, we stock up on jars of canned peaches. Quick, convenient, and a year round alternative to fresh. Fun fact: did you know that canned peaches may contain more vitamin C, folate, and antioxidants than fresh peaches!? Just another reason to grab those cans! Once we open them up there's just one more thing to do. Make Peaches and Cream Baked Oatmeal! Tender oats are baked with vanilla, sweet cinnamon, and juicy peaches for an upgraded twist on a classic combination.
Why You'll Love This Dish
It's a SIMPLE mix-and-bake recipe.
The prep of this dish comes together in mere minutes, making it a no-fuss recipe anyone can throw together. Just toss everything together, mix well, and bake!
Satisfying and nutritious!
This baked oatmeal is packed with good-for-you ingredients like rolled oats, ground flaxseed, and whole fruit and get a protein boost from milk, yogurt, and eggs.

It's incredibly delicious.
Whether you keep it plain or dress it up with a dollop or yogurt, almond butter, or even ice cream (we're not here to judge) this recipe does not disappoint. It's light and sweet and yet utterly satisfying all at once.

Meal on-the-go
Whether you struggle to get moving in the morning or simply want a convenient meal that goes where you go, these oats fit the bill! Different than traditional oats, baked oatmeal holds form, makes less mess and is a super portable option.
What You'll Need
Oats
Hard to make baked oatmeal without the oats! Rolled, old-fashioned are recommended but quick cook can be used as well with some difference in texture.
Milk and Yogurt
Milk and yogurt are the "cream" in our peaches and cream dish. We have made baked oatmeal with both dairy and non-dairy alternatives and have found no adverse difference in flavor or texture. In fact, coconut milk was a delicious addition to this recipe! Use your preferred versions. Don't have yogurt? Replace with equal amount milk.
Eggs
Eggs play an important role in helping baked oats set into place. We have made baked oatmeal with flax and chia "eggs" with good success, but, a notably softer final texture.
Peaches
An essential ingredient! Fresh, frozen, or canned peaches will do. As most peaches are canned in juice or syrup, we recommend draining well before use. Also, depending on the ripeness of your peaches, you may wish to increase your syrup a touch.
Ground Flaxseed
Ground flaxseed adds fiber, healthy fats, and essential nutrients to the oats. They also help bind the oats together. You can swap out for chia seeds or omit altogether if you do not have.
Maple Syrup
These oats need just a touch of sweetness. Maple syrup is our pick but you can replace with any preferred liquid sweetener.
Oil
A little oil (or butter!) adds moisture and tenderness to the bake. Swapping avocado oil for coconut or toasted walnut oil can add a delicious touch of flavor.
Baking Powder
Baking powder helps give a nice, fluffy lift to the oatmeal. Omitting can result in a dense, heavy bake.
Simple Seasonings
We keep things simple with vanilla, cinnamon, and salt to balance everything out. You can get creative with any of your favorites spices to liven things up.
How To Make
Step 1
To start, we combine all ingredients together (minus peaches) into a large mixing bowl. Once everything is in, whisk together until completely mixed.
Step 2
Next, we prepare the peaches. We dice the majority of our peaches into bite-sized pieces and leave some for a decorative topping. Once sliced, add the diced peaches to the oat mixture and stir to combine.
Step 3
Pour the oats into a baking dish and garnish with the remaining peach slices and extra cinnamon.
Step 4
Bake until oats are lightly golden and "set". If desired, add a dollop of yogurt, almond butter, or (our favorite) chilled coconut cream on top.
Frequently Asked Questions
What is the texture of baked oatmeal like?
We like to say that baked oatmeal has the consistency of a mix between a muffin and bread pudding. Lightly moist and tender, yet sturdy enough you could pick up in pieces.
Can I use fresh peaches?
1000% yes! We LOVE the flavor and color from fresh peaches. No extra prep is required. Depending on how sweet your fresh peaches are, you may opt to add additional syrup to the mix.
I don't have flaxseed. Can I use something else?
You bet. Traditionally we alternate between flax and chia seeds in our baked oats to add a boost of nutrients. They also help bind the mixture and add filling fiber. If you don't have either on hand you can leave out altogether.
I'm fresh out of peaches! What other fruit can be used?
No problem! Just about any fruit can be substituted in its place. We've had great success with berries, dried fruit, and even shredded zucchini!
Can this recipe be made dairy free?
Absolutely! We have made these baked oats with both dairy and non-dairy milk and yogurt with great success. When swapping out for non-dairy alternatives you do lose some protein, so you can pump up the protein by adding in collagen, a favorite protein powder, or drizzling nut butter on top.
How do you store baked oatmeal?
Baked oatmeal should be stored in the refrigerator and consumed within 3-5 days after making. We recommend storing in portioned containers and freezing extras for future meals down the road!
We share more frequently asked questions about baked oatmeal in this post for Gingerbread Baked Oatmeal.
Print Recipe
Peaches and Cream Baked Oatmeal
Peaches and Cream Baked Oatmeal combines tender, spiced oats with sweet, juicy peaches for one incredibly satisfying breakfast.
Ingredients
2

cups

dry rolled oats

1 ¼

cups

preferred milk

dairy or non-dairy

½

cup

yogurt*

dairy or non-dairy

1

15 oz. (approx. 1 ¾ cups)

can sliced peaches

can also use fresh when in-season

2

eggs

2

tablespoon

ground flaxseed

⅓

cup

maple syrup

2

tablespoon

avocado oil

1

tbsp

vanilla extract

¾

teaspoon

baking powder

½

tsp

ground cinnamon

⅛

teaspoon

salt
Instructions
Preheat oven to 375 degrees.

In a large mixing bowl whisk together all ingredients, minus peaches; set aside.

Drain all juice/syrup from peaches. Reserve 6 peach slices for topping. Dice remaining peach slices into small pieces and add to oat mixture.

Pour mixture into a lightly greased 8x8 baking pan. Garnish with remaining peach slices and extra cinnamon.

Bake uncovered for 50-55 minutes, or until edges are lightly golden and oats are "set".

If desired, top with your favorite yogurt, nut butter, or (our favorite) chilled coconut cream!
Notes
*if using unsweetened yogurt, you may prefer to increase maple syrup by 2 tbsp
Nutrition