Easy Salmon Patties are quick, easy, and make fans of even the pickiest eaters. These patties are dinner-ready in under 30!
This recipe was updated on 8/8/2022.
Do you struggle with simple seafood recipes? Or ever find yourself in a food rut? We sure DO! Blame it on busy schedules or just pure laziness (just being honest 😂) but sometimes our standard go-tos just don't cut it. Enter in these Easy Salmon Patties! These patties are quick, easy, and loaded with flavor. You can dress them up, pop them in between a bun (preferable with lettuce, grilled pineapple, avocado, and bbq sauce), or straight up off the skillet. You are sure to love them.
WHAT YOU NEED TO MAKE THIS RECIPE
Salmon
Canned or freshly cooked salmon works perfectly for this recipe. We love the cost and convenience of canned and find it has a milder flavor - great for those learning to love fish. Be sure to grab the boneless skinless varieties.

Veggies
Onion, bell peppers, and celery add flavor, color, and crunch to these patties. We like to give them a light sauté. Just enough to leave some crunch without becoming mushy. You can swap out any veggies with your favorites. Carrots, zucchini, and even corn have made it into our variations.

Pantry Seasonings
Seasonings are ESSENTIAL for a tasty salmon patty. They add an irresistible flavor pop that sets these apart from any standard patty. Just like the veggies, you can get super creative with your seasoning mix. We've also loved Old Bay and cayenne pepper as well as -believe it or not- dried bbq seasoning!

Panko
Panko is responsible for adding bulk and helps bind our patties together. Regular or gluten free panko or breadcrumbs will do. Almond meal may be another suitable replacement but we have not yet tried this ourselves.

Egg
Egg is also responsible for helping bind our patties and adds moisture. We have not tested flax eggs* with these patties yet, but think that would be the best substitute alternative if unable to do eggs.

*To make flax eggs, combine 1 tablespoon ground flax with 3 tablespoon warm water. Stir together and let sit for 10-12 minutes, until thick and viscous. You can see how we use flax eggs in our favorite Black Bean Brownie recipe here.

Mayonnaise
Mayonnaise helps keep our patties held together and adds flavor and moisture to the mix. Greek yogurt is an alternative substitute and adds tartness to the mix. If substituting with yogurt, you may consider increasing your dried herbs to balance the tart.

HOW TO MAKE SALMON PATTIES
Step 1
To start the patties, we want to get the chop work out of the way. Dice the peppers, celery, and onion into small bite-sized pieces. To save time, we often pull frozen, pre-diced veggies straight from the freezer. Once the veggies are chopped it's time to sauté. We like to keep a little crunch to our veggies but you can saute for longer for a softer texture.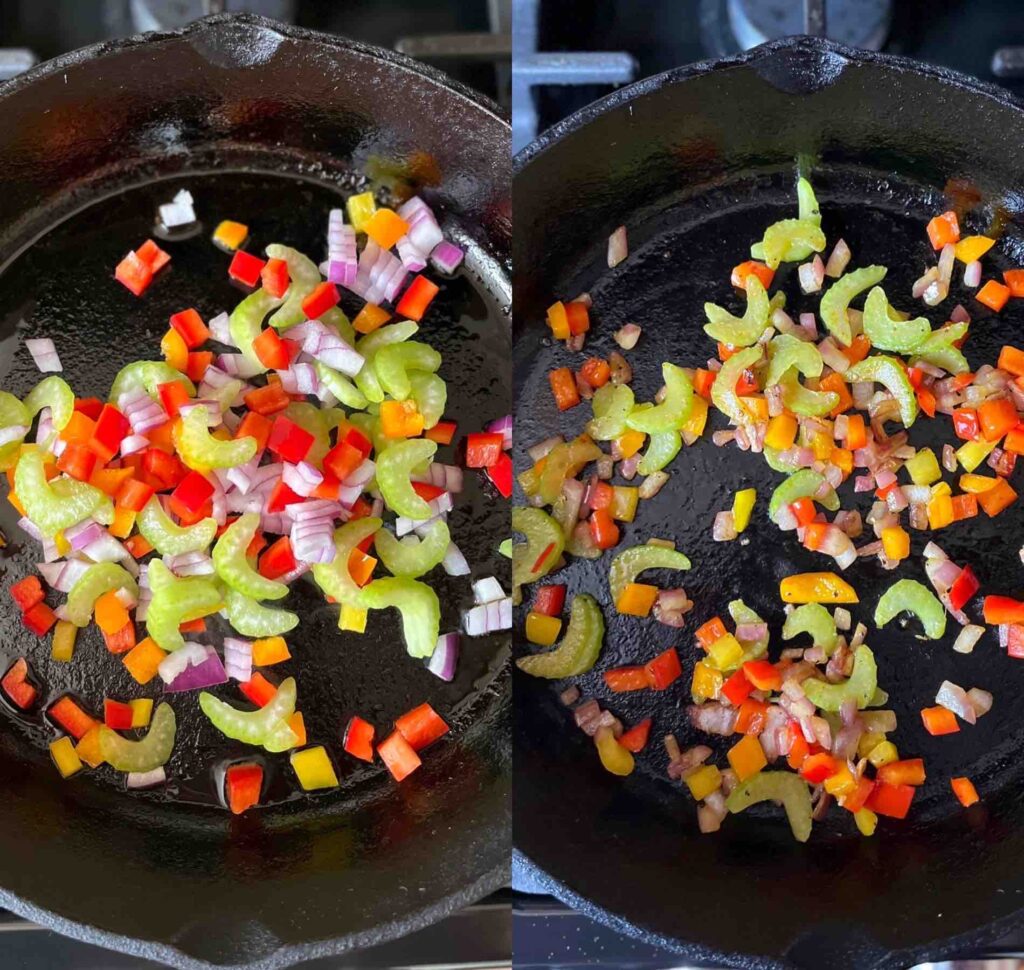 Step 2
Once the veggies are cooked, it's time to prepare the wet patty mix. To a mixing bowl add veggies, salmon, egg, dry seasonings, mayonnaise, and panko and stir until well combined. The mixture should be semi-wet and tacky - enough so that the formed patties stick together.
Step 3
Now that the ingredients are mixed, it's time to form the patties. This recipe yields 6 larger patties or 8 smaller patties. It is important to press to patties together firmly enough so they stick and do not fall apart while cooking.
Step 4
Finally, it's time to cook the patties! There are a number of ways to do this. Our preferred method is in a cast iron pan but an electric skillet, electric or gas grill can all work as well. We find a medium-low heat works best, allowing the patties to cook thoroughly all the way through, and get that golden external crisp on the outside.
Print Recipe
Easy Salmon Patties
Ingredients
6

oz.

boneless canned salmon

can sub with freshly cooked

⅓

cup

finely diced onion

⅓

cup

finely diced bell pepper

any color

⅓

cup

finely sliced celery

2

teaspoon

extra virgin olive oil

¾

cup

panko

regular or GF

¼

teaspoon

dried dill

⅛

teaspoon

each, dried onion and garlic powders

⅛

teaspoon

smoked paprika

⅛

teaspoon

each, salt and pepper

1

egg

½

cup

mayonnaise

or more, as needed
Instructions
In a medium pan, sauté onion, bell pepper, and celery in olive oil and dry seasonings. Sauté for 2-3 minutes, until slightly softened with a slight crisp. If you prefer more tender veggies, sauté for an additional 2 minutes.

Remove vegetables from heat and add to a mixing bowl with remaining ingredients. Fold mixture together until well combined. Add additional mayonnaise as needed, until mixture is slightly sticky and "holds" in together when squeezed.

Form mixture into 6-8 even sized patties.

Heat a cast iron skillet or grill over medium-low and cook patties for 4-5 minutes, flipping once, until crisp and golden.

Serve with your favorite tartar, bbq, or sweet chili sauce.
Nutrition